Who Is OptecK? Find Out In This Comprehensive Opteck Review
100% Welcome Bonus and other attractive bonus programs
Risk Free Trades a special bonus you can obtain
Demo Account one of the most distinct advantages
Opteck is a binary options broker that was introduced in the year 2011. Opteck is regulated by the CySEC and the parent company that owns Opteck, CST Financial Services Ltd., is situated in Belize and registered under the International Financial Services Commission (IFSC) in Belize. Opteck has several strong suites in its favor that encourages traders to open an account with them, but they also have a few negative aspects which affect their popularity. We will take a close look at the company through this Opteck review to learn more about the broker.
Get now 100% Deposit Bonus from OptecK by clicking here!
Opteck Education
Opteck excels in offering a fantastic set of educational materials for newbie traders that can help even the most amateur trader to get a comprehensive picture of the binary options markets. Opteck is perhaps the only binary options broker that consistently reviews and improves their educational materials to ensure that all of their clients have access to the best possible resources to learn about binary options trading. Opteck also offers a one-on-one training session for their customers, which is something that most of the binary brokers in the industry should learn from or adopt.
You can easily get 100% deposit bonus – just use our link and start trading now!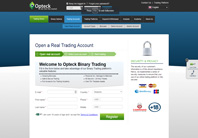 Open a new account at OptecK and take your amazing 100% welcome bonus!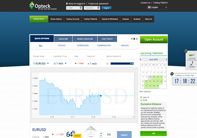 Have a look at all assets and graphics that OptecK offers you!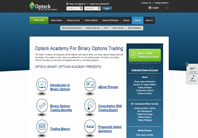 Check their amazing Academy Center and start trading successfully!
OptecK100% BonusDemo AccountRisk Free TradesTrade Now!
Trading Binary Options With Opteck
Traders can start trading binary options with Opteck with a small initial deposit of $250. Due to the rules of binary options trading in the US, US customers cannot open an account with Opteck. The payouts for winning trades can be as high as 85%, and the broker also offers a payback on losing trades that is up to 15% of the investment capital. Opteck is one of the few brokers that offer a rebate on a losing trade, and this should certainly help traders to control their risk and preserve their capital. The expiry time for options range from 60 seconds to daily and weekly options and the payout percentage is dependent on the duration of the trade. As far as the trading conditions are concerned, Opteck offers the usual suspects such as high/low trading, one-touch options, boundary options, and near-expiration options for more than 70 assets that include Currencies, commodities, stocks, and indices.
Opteck has another trick up its sleeve that is certainly an attractive feature that most brokers don't offer. Binary options trading revolves around the concept of entering a trade and then waiting for the expiration time of the option to determine the outcome of the trade. A trader can either profit from a winning trade or lose from a losing trade. Traders are not allowed to manage their trades, unless in exceptional circumstances where they can extend the time of expiry by adding on to the investment capital. Opteck, on the other hand, allows a trader to exit his trade midway if he feels that the trade isn't going in his favor. Opteck will refund the investment amount after subtracting a portion of the invested amount as fees, which is certainly better than losing the entire amount in a single trade. This is by far one of the most noticeable benefits of Opteck Binary options broker.
Opteck assigns the services of a dedicated account manager to each client signing up with Opteck. It might sound like an excellent idea at the outset, but these account managers are over-enthusiastic in their approach and lure customers into opening trades that can have a losing potential. While this might be unintentional, such a strategy is certainly questionable from the part of Opteck. Traders can do better by being proactive in their research and only use information that they believe are profitable for them in the long term.
What Is The Opteck Bonus Structure?
Opteck is not the best in the industry when it comes to bonuses, as at best a trader can enjoy a 50% bonus on the initial deposit. However, if a trader knows what he is doing, he can bargain with the customer support channel and can achieve a 100% deposit bonus. Opteck bonus is also available according to seasonal promotions that the company initiates from time to time. Therefore, it would be wise for traders to look for the best promotional offers before making any significant deposits with the broker.
Is Opteck Binary Options Broker Regulated?
General Information
Operator:
Centralspot Trading Ltd
Founded:
2011
Address:
Lophitis Business Centre, Office 102, 249, 28th October Street, Limassol, 3035 Cyprus
Phone:
+357-22-007264
Email:
[email protected]
Opteck Binary options broker is regulated by the CySEC, and the parent company is registered under the IFSC. While Opteck was formed during 2011, the company was regulated by the CySEC only recently in 2014. During the early days, the company had allegedly indulged in several malpractices, but after receiving the regulated status, the company has cleaned up its act and is working towards establishing a good market presence by offering world-class binary trading services for clients across the world. The broker has indeed come a long way since the early days, but there is still a lot of ground to catch up regarding ultimate performance and reliability.
How Does The Opteck Trading Platform Fare In The Real World?
Opteck employs a web-based trading platform that is incredibly easy to use and highly reliable. The trading interface is designed such that even amateur traders can't get it wrong while opening and closing trades. Past Opteck traders have complained about a few technical anomalies in the program that led to a frozen platform, but Opteck is working hard to eradicate these issues to provide a seamless trading interface.
The Cost Of Trading Opteck Binary Options
One of the major disadvantages of trading Opteck Binary options is that there are a few associated costs of trading. For instance, there are withdrawal fees, commissions, and other charges that can put a burden on the trader. Withdrawals also take a lot of time, which can increase the anxiety levels of a trader, especially if they have requested for the withdrawal of a significant amount. Nevertheless, Opteck compensates for the fees by offering flexibility regarding managing trades and offering rebates on losing trades.
Can I Open An Opteck Demo Account?
An Opteck demo account can only be opened after registering a real live account with Opteck. The Opteck demo account has all the functionalities that are available with a real account and is pretty much representative of a live trading simulator.
Trading Binary Options Through Opteck Mobile Platforms
Opteck is no different from other mainstream binary options brokers in the industry, as traders can opt for Opteck mobile trading platforms for trading binary options on the go. Both Android, as well as iOS users, can download the apps from their respective stores, and these mobile platforms are pretty intuitive to use with all the essential tools and resources incorporated into the software.
Opteck should concentrate more on their customer service channel and include more assets into their binary trading platform to offer better trading services for their clients. It will take time for the company to rub off their negative image, but by providing high-quality services, any company can revamp their reputation.