Binary Options Trading Platforms
Binary options brokers offer a broad range of binary options trading platforms that are designed exclusively to provide a convenient and seamless trading interface. Binary options are still a new concept to the financial markets, but that hasn't stopped brokers from developing feature-rich platforms that have all the tools necessary for traders to make an informed investment decision.
What Are The Different Binary Options Platform Options Available At A Broker?
There are different types of binary options platforms available in the market that is designed for devices ranging from dedicated desktop trading terminals to smartphones. All trades are carried out through a broker's server, and unlike traditional markets, the trades are not connected to an exchange. All trades are filled by the broker, and the outcome of the trade is determined at the expiry of the options, which negates the need for brokers to connect client accounts with an interbank. However, all binary options brokers are required to link their trading terminal to interbank servers for live pricing and feeds.
Binary options were initially developed for the desktop platform. Traders can either choose to install a dedicated trading platform on their desktop or laptop, or choose a web-based trader that can be used to trade options directly through the web browser. Both of these platforms usually have the same characteristics and functionalities, but the desktop-based platform is known to offer better latency on trading. Mac, Windows, and Linux users can download the respective platforms from the broker's online resource while traders on the move can use the web-based platform to access their account through a computer situated anywhere in the world.
Traders can also trade binary options on their mobile devices through the dedicated mobile trading apps that are designed for both the iOS as well as Android operating systems. The popularity of binary options and its inherent trading characteristics have enabled traders to indulge in binary options trading through their mobile devices. This has opened up a niche market where several brokers have started to offer dedicated mobile binary options trading platforms and accounts with several functionalities designed to cater to such a market.
Which Binary Options Trading Platform Should You Choose?
As a trader, your primary aim should be to find a good binary trading platform that can provide you with the essential tools to perform a proper analysis of the markets and trade the trends accurately. A platform that works well for one trader doesn't necessarily mean that it will work for another. A trader should concentrate on choosing a comfortable and convenient platform that can provide all the functionalities for enjoying successful trading over an extended period.
You should always demo trade binary options through different demo platforms before investing real money in a live account. Several binary options brokers offer demo accounts that will help traders to get a real-life understanding of how different platforms work and how they stack up against the competition. This should be used to your advantage by getting a feel for how binary options platforms work in actual trading conditions.
Trading simulators also help a trader to get a fair idea about the risks involved in binary options without actually risking real money into a live account. However, traders should be vigilant against binary brokers who rig demo accounts to show consistently positive results. This is done to boost the ego of a trader and force them into making a deposit to trade using a live account. Several traders have committed the mistake of trading on a real account with just a few days or weeks of trading on a demo account with satisfactory results, only to find that risk of trading on a real account is on an entirely different level.
What Is The Best Binary Options Trading Platform For The Best Trading Results?
Trading binary options is highly risky and is unlike traditional forms of investment where the trader has full control over his investments. Once a trade is opened, a trader has to wait for the expiry of the option and accept the outcome of the trade without any questions. Therefore, trading results are not entirely dependent on the trading platform, as they are mostly reliant on the trader's ability to predict the movement of the markets accurately.
However, a trading platform can indeed bridge the gap between success and failure. Trading platforms are the intermediaries that help a trader to interact with the markets and open trades in anticipation of a move in the right direction. Therefore, a trader should have access to the best trading platform that offers no slippage or re-quotes, which are considered to be the ultimate doom of a successful trader.
There have been numerous instances where faulty trading platforms are known to wipe out a trader's entire capital. Some brokers deliberately tamper with a platform to ensure that their clients lose their money on most of their trades. Binary options brokers make money from a trader's losses, which is why fraudulent brokers go to great lengths to ensure that their clients lose money on an average.
Trading binary options is also dependent on a trader's personality and trading characteristics. Some traders require access to dedicated trading terminals with multiple screens for in-depth research and analysis. Other traders only need a small glance at a market to predict the trend correctly. Therefore, a trader should experiment with multiple platforms to choose the type of platform that best suits their trading characteristics.
Some traders are always on the move, and might require the services of a dedicated mobile binary trading platform for trading on the move. Such traders can choose mobile trading platforms that are designed for devices such as smartphones and tablets. However, there are a few limitations on the list of available features and functionalities that might restrict the freedom available to a trader to trade the binary options in an advantageous manner. Most mobile binary traders make use of trading signals to trade, which eradicates the need for large screens or multiple devices to perform a detailed market analysis.
How To Stay Away From Faulty And Rigged Binary Trading Platforms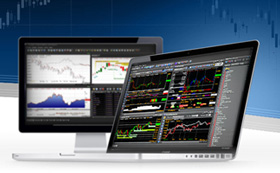 Rigged platforms are known to siphon off money from unsuspecting investors. Most fraudulent brokers usually follow scam practices such as rigging platforms or tampering with price feeds by manipulating the platform to induce slippages, which ensures that their clients are on the wrong side of the trade for most of the time. Most clients are unaware of such scams as they only use a single platform for price reference and other relevant market data.
As a trader, you should always have multiple live price feeds to ensure that the quotes you receive from your binary options broker are authentic and in line with the market data. It is also a good idea to constantly check for price information through reliable third-party websites as well as other binary broker platforms, which can help you to notice any instances of price manipulation done by your binary options broker.
Traders should also be wary of binary options trading platforms that throw up constant glitches and price re-quotes or slippages. A binary options broker should be able to fill the order at the market price and should not enter trades at significant slippages. Binary options are all about making the right call within a few seconds, and the extreme liquidity of the markets ensure that price can change by a huge margin within a matter of seconds.
Several platforms are also known to open trades at the wrong time without the consent of the trader, and this happens mainly due to a faulty trading platform. These trades are opened due to a previous order entry that might have been canceled by the trader due to his reluctance to enter the market at that price. The platform, on the other hand, will incorrectly enter the trade without the knowledge of the trader, and such trades can slowly eat into a trader's capital. While such kind of trading is a rare occurrence, traders can still lose a huge chunk of their money if they are not careful about reviewing their trading capital and balances on a periodic basis.
When it comes to the choice of a good binary options trading platform, traders are spoilt for choices in this highly competitive market. Several good quality brokers consistently come up with innovative ideas to ensure that binary traders get the best features to trade the financial markets using such an exotic component of the trading industry. New concepts such as social trading are also gaining prominence, which makes it easy for traders to follow, copy, and share trades through a global platform.