Trading Binary Options Using Robots
Automated trading has found a tremendous amount of success and popularity among binary options traders around the world. Trading robots are just automated systems that are designed to open trades on the behalf of a trader. A trading robot works on the principle of opening a trade if a series of trading conditions are met. These trading rules and market conditions are pre-programmed into the trading software by a group of programmers and expert market analysts who have many years of experience in the industry.
A binary options trading robot can make the job easier for a trader who lacks the time to be in front of a trading terminal for hours on end. Usually, binary robots are designed for investors who are unable to trade the markets due to the differing time zones and other personal or professional commitments. Therefore, amateur traders, employees, and entrepreneurs can all make use of binary robots for making profits from the markets without personally getting involved in the trades.
The Concept of Automated Binary Trading
Automated trading has been with us for the last few decades. Large hedge funds and institutional investors use automated trading as part of their trading portfolio and have achieved tremendous results mostly without the help of any dedicated research analysts. Forex traders also use automated trading in the form of Expert Advisors and other allied systems that play an integral part in ensuring healthy profits through skill and good money management strategies.
Automated trading arises out of the concept of designing trading robots that can open trades automatically and manage them according to the market conditions and trading indicators. These robots or programs are designed and developed by incorporating several aspects of technical analysis, fundamental analysis, market sentiment, and money management strategies to ensure that these robots can replicate the trading performance of some of the best traders in the world.
A binary option robot helps in removing the emotion from trading, as psychological factors are considered to be the greatest influences that can decide the ultimate success or failure of a trader. Emotional imbalance, greed, revenge, pain and elation are some of the psychological characteristics that severely limit the abilities of a trader, irrespective of how good he is with reading the market conditions accurately. Trading bots, on the other hand, are not burdened with such emotions; therefore, they do their job without thinking about it.
The Difference Between Binary Options Robots & Binary Signals
Automated trading is entirely different from binary signals. Binary signals are trading calls that are sent to the trader to inform him of the opportunities in the market. A trader has the discretion to use the signal according to his preferences, and may or may not use it to trade binary options. Binary options robots, on the other hand, trades on the behalf of a trader, and while a trader can have some control over the trading behavior, the robot does all the heavy lifting. A binary options robot will open a trade when the market conditions meet its trading criteria, and the investor is usually unaware of the trades. Trading bots prepare a statement of all trades initiated by the robot so that the investor can review the trading log and make changes accordingly.
Trading signals offer more control to the trader, but the chances of success are determined by the emotional caliber of a trader. On the other hand, a trading bot goes about its business of opening trades irrespective of the personal characteristics of the investor. Therefore, it is up to the trader to decide whether they want to stick with a binary trading bot or start using signals to experience more control over their trades.
How To Find The Best Binary Options Robot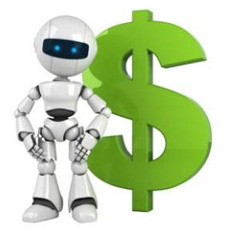 There is a massive number automated binary trading bots in the market that can guarantee as much as a 90% winning ratio. There are also some bots that can result in an account wipe-out due to disastrous trading techniques. While some binary robots promise a 100% success record, it would be safe to assume that even robots can fail at times. The nature of trading dictates that no trader, immaterial of whether it is an established trader or an excellent trading program, can achieve 100% accuracy over an extended period. Therefore, to find the best binary options robot, a trader has to analyze carefully the different options available in the market and compare them to find the one that suits their preference.
At Binary Options Trading, we help traders to get more information about the most popular trading bots in the industry and compare them side-by-side to choose a top-quality binary trading robot that has an excellent track record of consistent performance. As far as the cost of binary options robots is concerned, some robots charge a per month performance fee, while others offer free access to traders and earn a commission per trade from the binary options broker.
How Reliable & Safe Is A Binary Options Trading Robot?
An options trading bot cannot be considered as a fool-proof way to success in the financial markets, as successful bots also face severe drawdowns from time to time. While a trading bot is better than an amateur or uninformed trader, it does not guarantee the flexibility and control that real traders can have over their investments. The lack of emotion in automated trading can also work against an investor if he is not vigilant against protecting investments from a trading program that is on a prolonged losing streak.
Programs are also susceptible to bugs and market volatility, which might force the bots to take trades against the trends and lose a significant portion of the investment capital. Most programmers regularly update their trading robots to ensure that new market conditions and trading parameters are added to the core programming to make sure that the bot keeps performing better over an extended period. Therefore, if a trading bot isn't updated for a while, it is possible for an investor to face a significant drawdown if he continues to employ the bot for his automated trading. The extreme volatility of the markets can also quickly wipe out the account if an investor does not take the proper measures to safeguard his capital.
However, binary options trading robots can be considered as a viable alternative for traders who have been facing a constant uphill battle against the markets. Traders who are unable to read market conditions accurately can greatly benefit from the use of automated trading bots that can reduce the number of losses. Traders who are unavailable to trade the markets during most parts of the day can also benefit from trading bots as these traders can concentrate on their day job while the bots take care of their trading.
Does A Binary Option Robot Review Tell The Whole Story?
A trader can find plenty of online reviews that reflect on both the positive and negative aspects of automated binary trading. A good and honest binary options robot review should help new as well as established traders to understand the essential features of a program, which will, in turn, assist them to make a better decision. In most cases, a binary trading bot review should be able to shed some insight into the performance and reliability of the program, but certainly paid reviews will only concentrate on the positive aspects of the robot. At Binary Options Trading, we focus on offering the best information into both the pros as well as cons of binary options trading robots that will help traders to make an educated assessment about the concept.
Automated trading is an established concept that is used by experienced traders for a range of financial markets around the world. Ever since the introduction of binary options into the mainstream capital markets, programmers and analysts have been working together to build the best trading bots that can consistently generate profits and reduce the risk factor. While robots can't guarantee a 100% success ratio, automated trading can help traders to minimize mistakes that arise out of psychological elements. Binary trading bots can also help traders to be in the markets at all times without having to worry about missing the perfect trade setups time and again.
However, as with all technologies, binary trading bots also come with a few drawbacks, and it is essential for investors to have a proper understanding of the several shortcomings before investing in these programs. This can not only prevent investors from losing money but can also help them to devise strategies that will guarantee long-term profitability.