OptionTrade Review – How Does This Broker Stack Up?
Up to $500 Welcome Bonus fantastic bonus options
Loyalty Program extras for the best clients
Superior Mobile App monitor the markets & open new trades
OptionTrade is a popular and leading binary options broker that has a massive backing from HotForex, which is an established Forex broker. OptionTrade is currently one of the largest binary options brokers in the EU and is consistently at the top of the recommended list of binary options brokers since its inception in 2013. OptionTrade is regulated by the CySEC regulatory authority and is licensed under the MiFID derivative to offer binary options brokerage services to all clients in the European continent.
OptionTrade is very similar in operational protocols when compared to its peers in the EU zone. The broker does not accept any US traders due to the regulatory guidelines enforced by the US. Therefore, traders from the US will have to look elsewhere to trade binary options. Also, OptionTrade is heavily supported by HotForex, which is another incentive for traders to deposit money into a credible and well-known broker in the EU.
Click here and get $500 Deposit Bonus from Optiontrade!
Every single OptionTrade review from genuine customers seems to support the services of the company. The broker is extremely dedicated to earning a good reputation among the modern generation of binary traders, which is evident in how the company interacts with their clients. At Binary Options Trading, we will provide you with a detailed analysis of how OptionTrade fares when compared to its competition.
Opening An Account & Trading At OptionTrade
OptionTrade offers mainly three different types of accounts according to the initial deposit amount. The Standard account allows a trader to open an account for as low as $200, which is the minimum amount of deposit accepted by the broker. The second tier is known as the Premium account, which is available for clients who make a minimum deposit of $1000, while the top-end VIP account is reserved for traders investing a minimum amount of $5000.
All of the accounts offer client protection insurance to safeguard the funds, but the payouts vary according to the account type. The standard account only provides a payout of up to 83% per winning trade, while the Premium and VIP accounts offer up to 85% and 88% respectively. The payout percentage of the VIP account is one of the highest in the industry, but the standard account offers only an average return per winning trade. Losing trades does not qualify for a cash rebate or payback, unlike some of the other established players in the industry.
You can easily claim $500 welcome bonus – just use our link and start trading now!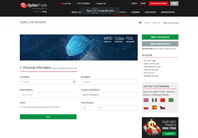 Open a new account at Optiontrade and take your amazing bonus of $500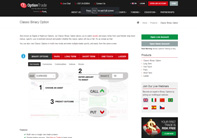 Have a look at all assets and graphics that Optiontrade offers you!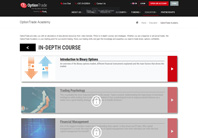 Check their comprehensive Education Academy and trade successfully!
Optiontrade$500 BonusMobile AppLoyalty ProgramTrade Now!
The number of assets also differs according to the type of account. The Standard account provides access to around 80 financial assets, while the VIP account grants the trader access to around 200 financial assets. The Premium account only offers traders to trade with an average number of 120 assets in the financial markets. Traders can fund their trading accounts through multiple channels, including credit cards and online payment processors.
The deposit and withdrawal process are pretty seamless, which is further reinforced by the fact that OptionTrade is part of the HotForex community, which helps the company to manage the liquidity of the funds. All client funds are kept in segregated accounts, and every client is entitled to the client insurance protection, which is one of the best features of OptionTrade.
As far as trading is concerned, OptionTrade provides different products such as the classic high/low, one touch, long term, short term, pairing, and ladder options. Traders can open binary trades with a small initial investment of $10, which helps traders to control their risk in the binary options markets. All traders are also provided one risk-free trade, and the size of the risk-free trade is dependent on the type of account.
What Are The Trading Platforms Available With OptionTrade Binary Options Broker?
OptionTrade offers the convenience of trading through multiple trading platforms, including a web trader platform, a desktop platform, and an OptionTrade mobile trading platform. The desktop application can be downloaded and installed on any desktop platform, and is relatively easy to use. The platform uses the SpotOption trading engine, which is regarded as one of the most reliable and robust trading platforms in the industry.
The web trader platform uses the web browser to trade binary options, which eradicates the need for a dedicated trading terminal for traders who use multiple devices. The web trader has almost all the tools and functions as offered by the desktop platform, and is pretty intuitive. When it comes to mobile trading, OptionTrade only recently launched their dedicated mobile trading platforms after an extended period of research and refinement.
Binary Trading Using OptionTrade Mobile Platform
General Information
Operator:
HF Markets (Europe) Ltd
Founded:
2013
Address:
Spirou Kyprianou 50, Irida 3 Tower, 10th Floor, Larnaca 6057, Cyprus
Phone:
+357-24-020054
Email:
[email protected]
Apple and Android users can download the OptionTrade mobile trading platform through the Google Play and Apple stores. These trading terminals are exclusively designed to offer convenient trading for mobile operating systems. Traders can perform a wide variety of tasks on these mobile platforms, and will rarely miss access to a dedicated desktop trading terminal. However, users who prefer a large screen for performing an extensive analysis of the markets will find mobile binary trading to be a bit cumbersome.
Availability Of Educational Materials & Customer Support
Traders are provided access to a host of educational materials that include webinars and pdfs, but the access is restricted to traders according to the type of their account. Only VIP account holders are eligible for the complete list of training and educational materials. Standard account holders have to be content with a basic tutorial that doesn't involve one-on-one training or in-depth market analysis.
However, traders can get access to autochartist, which is an automatic chart pattern recognition software, as soon as a trader can take up his account balance to greater than $300. Autochartist is a great tool for traders to interpret market patterns and make good trading decisions without spending a lot of time on decoding the patterns.
On the other hand, customers do get to enjoy an excellent customer service experience as OptionTrade has employed a highly knowledgeable and expert team of customer support representatives who see to it that the clients' problems and issues are promptly addressed. OptionTrade also offers multi-lingual support, which caters to a large number of clients from around the world.
OptionTrade binary options broker is a great company for those who want to enjoy a secure trading environment, especially in the knowledge that they are dealing with a company that is backed by an established Forex broker. Traders can also rest assured that the safety of their funds is guaranteed by the regulation and client protection insurance that is offered only by a handful of binary options brokers in the entire industry.