Top Option Review – A Binary Broker That Understands Its Clients
100% Welcome Bonus your investment is worth more
New TopOption Mobile App trade at home on the go
Personal 1-on-1 training new line of 5 exclusive e-books
Top Option is a bit late to the party as the company was formed only in 2013. The company that owns and operates Top Option is situated in Greece and is regulated by the Hellenic Capital Market Commission (HCMC), which is the foremost regulatory authority in Greece that oversees the conduct in the financial markets. Now that is a surprise as the CySEC mostly regulates the usual suspects. Nevertheless, we will try to find out more about what the company has to offer in this detailed Top Option review.
Click here and get 100% Welcome Bonus from TopOption!
What Should One Expect From Top Option Binary Options Broker?
Top Option is an excellent choice for traders who are starting off with a small investment capital and would like to lower their risk exposure. Top Option allows traders to start with a small initial deposit of $100, and the investment per trade can be as low as $5. This is great news for those who don't want to be burdened with the minimum deposit rules of $300 or $500 that most brokers require from their traders.
Top Option does offer a lot of different binary options trading products that are designed to maximize the winning potential of a trader. Apart from the classic high/low option, traders are also provided with one touch, touch/no-touch, speed master, ProOption, and long-term options that have a combined profit potential of up to 500%. The classic high/low option provides a maximum of 85% payout on the invested capital, which is not the highest in the industry, but interestingly, Top Option is one of the few binary options brokers that offer a cash-back or rebate on losing trades. Losing trades are eligible for cash backs of up to 30%, making it one of the best binary options brokers for limiting the risk per trade.
You can easily claim 100% welcome bonus – just use our link and start trading now!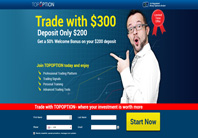 Open a new account at TopOption and take your amazing bonus of 100%!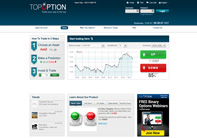 Have a look at all assets and graphics that TopOption offers you!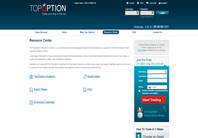 Check their amazing Resource Center and trade successfully!
TopOption100% BonusRich selectionMobile TradingTrade Now!
Of course, the payouts and cash back percentages are dependent on the type of account, but overall, Top Option offers great incentives for their clients that are unparalleled in the industry. Incidentally, there are only three different types of trading accounts, and the pricing structure ensures that the higher tiers are easily attainable for a majority of traders.
Types Of Trading Accounts At Top Option
The Starter account is for all clients who wish to invest up to $250, while the Pro account is available for investors who deposit up to $500. $2500 and above deposits qualify for the VIP account, which offers all the great benefits that the company has to offer. Top Option is certainly a great broker that offers a VIP account for such a small deposit, as several binary brokers are known to reserve VIP account status for deposits ranging from $10,000 and $100,000.
Top Option clients are also offered more than 180 assets to choose from, thereby allowing better freedom and flexibility for trading the financial markets. Every account holder will have access to a personal account manager, but the Pro and VIP account holders get access to one-on-one training and access to an impressive set of educational resources. Top Option also offers an excellent customer support channel, and they are among the best in the industry. It 's hard to find any official consumer complaints against Top Option since they are always proactive in attending consumer issues in a professional manner.
Traders can deposit money using multiple means, including credit cards and online payment processors. Traders can make instant deposits that will reflect in their accounts within a matter of seconds of minutes, but withdrawals do take some time. The company has explicitly mentioned seven working days for a withdrawal to take place. Taking a week to process a withdrawal is a bit long, but customers can receive their funds into their account within a couple of days. As far as safety and security of funds are concerned, clients' funds are kept in segregated accounts away from the broker's funds, which ensure that customers can access their money anytime they need it. The Greece laws also stipulate that client funds should be insured and protected from any company insolvency, which further enhances the security aspects of depositing money into Top Option.
Should I Opt For A Top Option Bonus?
The Top Option bonus is only available for deposits of $200 and above. Initial deposits of up to $500 qualify for a 50% bonus while deposits more than $500 can get traders a 100% bonus. The bonus structure of Top Option is nothing to write home about, but they aren't on the lower side either. Opting for a bonus requires the trader to satisfy several trading conditions that severely limit the freedom to withdraw profits. Several brokers impose restrictions on transactions if a client has opted for a bonus, and traders must be well-versed with all the Top Option bonus terms and conditions.
Trading Interfaces At Top Option
General Information
Operator:
Nuntius Brokerage & Investment Services S.A.
Founded:
2012
Address:
6 Dragatsaniou Street, 7th Floor, 10559 Athens, Greece
Phone:
+44-80-0170-0124
Email:
[email protected]
Top Option primarily offers two different types of trading interfaces for their clients. The first trading platform is a web-based interface that is designed for traders who prefer desktop trading. Top Option mobile users can make use of the dedicated Android and Apple apps that are available for trading on smartphones and tablets. Being a new company, both the Top Option mobile, as well as desktop trading platforms, are prone to technical issues, and users have reported the terminal to freeze up during regular trading hours. The company is working on fixing these issues, but users are cautioned to be careful against any technical glitches to prevent losing money during high-volatile events.
Why Should I Choose Top Option?
Top Option binary options broker is a new entrant into the industry, having introduced into the market only a couple of years ago. The company is not the best regarding outright features and performance, but it does have a few tricks up its sleeve that makes an excellent case for the company. Healthy payouts and cash backs on losing trades are some of most attractive benefits that are guaranteed to entice traders to open an account at Top Option.